Case Studies

---
Strathclyde Police

Strathclyde Police has approximately 8,000 police officers and 2,700 police staff working round the clock this makes Strathclyde Police is Scotland's largest police force, and one of the biggest in the UK. The Force Training and Recruitment Centre, based at Jackton, East Kilbride provides high quality training for all staff in the organisation from recruits to command level, including specialist training for detective and traffic officers.
Strathclyde Police required a role play company to supply them actors for there JIIT course originally and that has grown over the years and has developed into other courses. The courses below will give you an idea of the challenging roles our actors are trained in. The training and assessment courses are extremely varied and our role-actors play the following roles abused children, rape victims, mental health suspects and various members of the public.

Strathclyde Police use Interact Roleplay on the following courses:
Interview skills in Child Protection Training JIIT
Appropriate Adult Training.
SOLO rape interview techniques.
Various filming and video shoots.
Interact Roleplay supplies actors to assist in training and assessment exercises in the above courses at its Jackton training H.Q. We have been supplying actors to the Strathclyde Police for over 8 years, supplying over 100 actor days every year. We now supply actors to every police force in Scotland.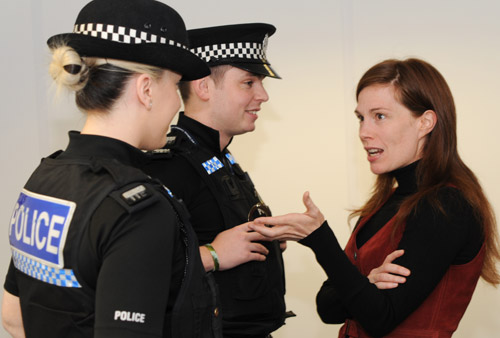 "Interact Roleplay provides a highly professional and dependable service which is an integral part of the training we provide. The experiential learning provided in the scenarios helps our students make crucial connections between theory and practice. We consistently receive feedback which comments on the high calibre of the actors and the quality of the learning experience they provide."

Mark O'Donnell
Joint Investigative Interview Training Coordinator
Strathclyde Police